---
The IDP Tipster Recaps All His Relevant "Takes And Calls" Throughout 2018 In Full Disclosure In An Attempt To Be Held To His Personal Oath As Well As Inline With The IDPGuys.Org Transparency Way Of Life 
---
There will be a lot to cover from 2018, so let's skip the bullshit and get right to it. We will cover the dossiers and anything else holding the information we can locate to sum up 2018 and hold me accountable. Feel free to agree or disagree and always know there is no topic we can't discuss openly via the @IDPGuys and @HBogart27 Twitter accounts. Help me keep helping us to win now as well as in the future.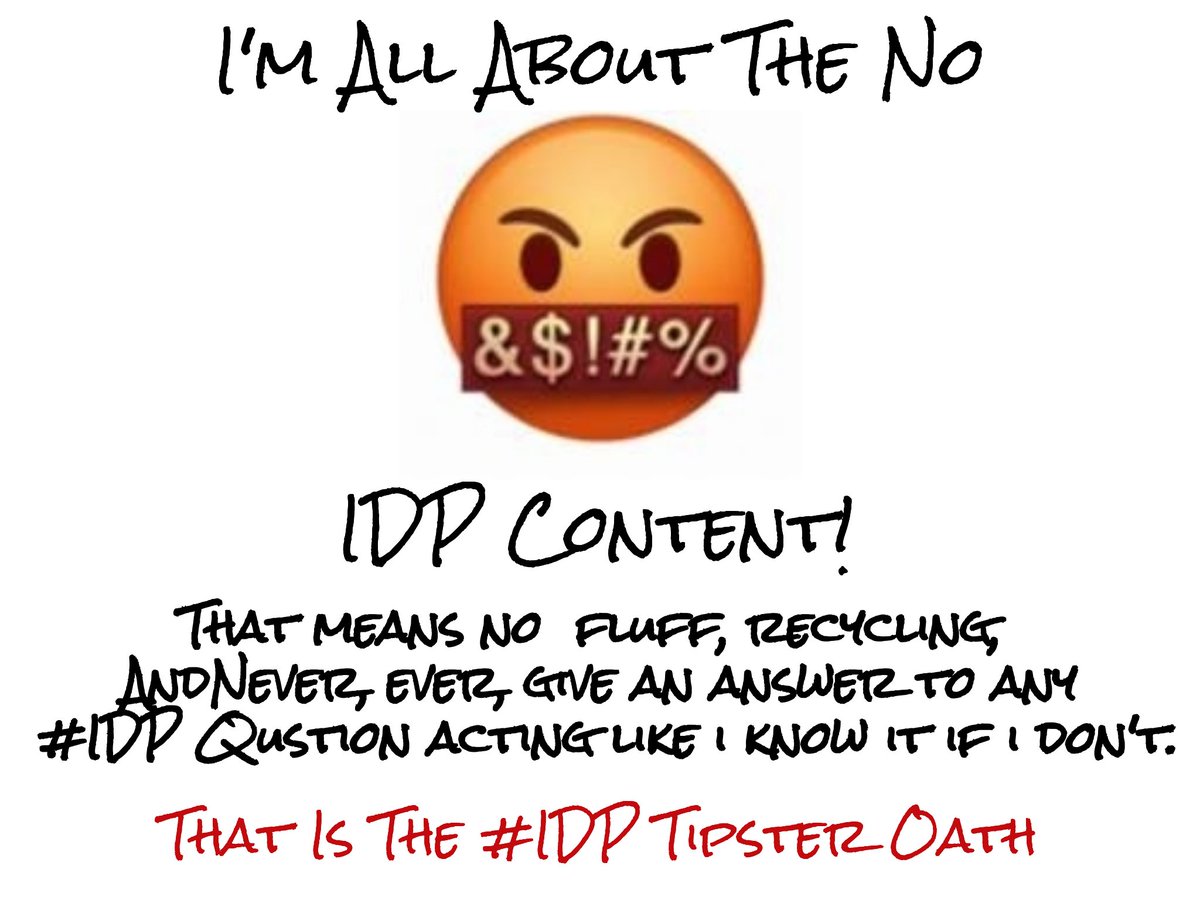 ---
"We should look at Vaccaro as last season's Johnathan Cyprien and expect him to be somewhere else next season."– So far, so good, but not a "take" as good as just a "call" made. HIT in more ways than one considering the "call" was way before Vaccaro actually landed with the Titans like Cyprien had the year before.
"………..(Vonn) Bell at a low-end DB1 to High-end DB2 just like this year." – Despite the Kurt Coleman signing, I remain confident here. HIT & Hit, Bell ended the regular season ranked 16th among defensive backs via NFL.com with 88 combined tackles. When talking core stats of tackle based leagues as I always do, this should have had him as a DB1 to a high-end DB2 in most formats if not all of them. And the second hit was "Despite the Kurt Coleman signing", correct me if I'm wrong considering the timing the dossier was published.
"(Marcus Williams) At this point let's cover what he did that should have us focusing on obtaining him for 2018. – A 2017 "sleeper" of mine, still a player to own with even more "upside" in 2018. MISS, the "upside" never happen as he ended up outside the top 64 among the DBs (72nd) and with fewer statistics than 2017 while playing all 16 games.
"Pittsburgh may or may not try to bring in a free agent at linebacker or even draft one."– They brought in Bostic from Indy to compete. But this is not a "take" per say. Mute Call
"Leaving Davis with a decent probability of reaching the next tier and with a middle of the pack outcome in his second season…….."– Keywords were "decent probability" and "middle of the pack". Burnett signing and Edmunds being drafted locks keywords into likely outcomes. HIT based off splitting the hairs and that he remained relevant ending the season ranked 27th (tied) with slightly fewer stats but reflecting on the keywords despite Burnett and Edmund's addition. He was the most productive of the Steelers Secondary. I don't believe throwing this old dog a bone here considering when the original "take" was made is out-of-order on my part.
"At this point, I would consider him (John Johnson} one of the sneakier players to emerge in 2018."– Toted as one of my rookie players to watch all last year, I began claiming Johnson as one of my three main breakout players for 2018 per main positions. That has not changed, and after this article's "take" it was only reinforced with the Rams trading away LB Alec Ogletree. Johnson is now teetering on the Tier 1 options among the DB. HIT, we are looking at one of my pride and joy calls here with what I'll say was one of my biggest hits. JJ ended up 2nd overall blasting the stat box.
"Buffalo's Matt Milano is personally my suggested number one breakout player heading into 2018 to be picked up."– Still arguably the same with more momentum after the spring activities. Remember one thing on a breakout call, he only has to become relevant for our IDP lineups, and at LB I'll stay with Milano as that number one on the list of breakouts over Johnson because of the designated LB position "known" production over the DB. In other words, a tier 1 DB can basically match the LB2 on paper per stats. Also with the belief that "DBs can be dime a dozen" to stream in-season. HIT claimed even if he went down with the broken leg in Week 13. He still landed 47th by years end in production among all LBs and at the pace we had going would have ended up as a probable Low-end Tier one per IDP production scoring. Correct me if I'm wrong, but can we argue that Milano was a breakout and at a high level "take"?
"Look at him (Raekwon McMillan) at the tail end of your starting unit or your first option as depth and the risk versus reward aspect has a lot to like."– A safer "take" put forth at the time with no injury reports to secure a stronger one. Falls in line behind Milano as second likely breakout candidate for the obvious reason. It'll basically be his rookie season and the recovery from the injury will still be in play. HIT, simply put, after a slow start due to 2017 knee injury he ended up tied 24th in overall combine tackles among all linebackers with 105. Relevant enough?
"……….(Shaq) Thompson is the logical choice for the Panthers to promote into the weakside linebacker position in place of the aging Davis."– One of those "takes" I'll remind everyone, it was made early February and Davis wasn't suspended four games until April, and Davis has stated that 2018 is his final season. This was another one I feel has only gained in value. His ceiling is only capped by playing next to Kuechly. Hit by default? Ironic enough, Davis and Thompson ended the season tied at 44th with 79 combined tackles apiece. Davis did out snap Thompson by about 6% overall by seasons end, but Shaq did remain a key part of the defense in the process registering the best tackle production of his four-year career.
"I made a call on Atlanta's DT Grady Jarrett this starting late in 2016 towards 2017 and the situation is nearly the same here. (on Godchaux) – This completes the three of my breakout players by position in 2018. Without digging so far into my past posts on Twitter because of the time it would take, I was mentioning at the time the article came out that Suh was likely a cap causality for Miami. A live and learn moment as I don't recall officially recording the post when I mentioned it a few times on Twitter. I want to say that it was even inserted in the original draft of the article but then removed for publishing my me. Again a "live and learn moment" to learn to stay with my gut calls as Suh was released mid-March securing what I was "taking" with a little more relevancy. He is my "Grady Jarrett JR" for 2018. MISS, after confirming that ranking 12th in combined tackles in end of year stats among DTs by fellow IDP writers isn't relevant enough. I disagree but will afford the Miss here to defining what a breakout is by my terms versus there's. Would guess they now expect home-run calls out of me from here on out, I decline that challenge until I see them set their personal bars at that level as well and make those "breakout" calls.
"The opportunity will be there for Butler as well as for IDP owners that are looking for a DL2/3 type in standard-sized leagues." – As I mentioned in the general "take" of the article, Lotulelei did move on, but the "take" is hampered a bit now because they did sign Dontari Poe in mid-March. This "take" holds water still, but the glass may be seen now as being half empty over being half full. MISS, and all she wrote.
"He is definitely a player to pay attention to depending where he lands this offseason." & "At the least, we have to figure that maybe he gets a "prove it" deal either in New Orleans or elsewhere." – He is still in solid play here as the Saints handed him a 2-year deal worth up to $10 million. They must have faith in his recovery from the Achilles injury. Okafor staying healthy makes this "take" a leap of faith as the Saints making his contract "worth up to" a sure sign of that. Hit as he managed to stay healthy and what I stated as I stated it. He managed to become at the least a bye-week player to "pay attention to depending where he lands this offseason." Via matchups, I personally used him as a bye-week play in standard ESPN sized leagues a few times. 
"There have been multiple reports lately stating that Kansas City Chiefs are likely to move on from inside linebacker Derrick Johnson and his $8 million cap soon. Again, anyone who followed my IDP notes won't find this shocking as I stated the same thing to the point I actually got tired of talking about it." – Talking about it during the 2017 season is what I referred to. In this case, the "take" was correct, D.J. was not resigned and now with Oakland. Hit as stated.
"It should be safe to say that Reggie Ragland will be counted on to be the run stopping linebacker and receiving a full workload in 2018. While most mainstream "takes" actually are naming him the replacement for Derrick Johnson if or when D.J. is released. I disagree." – And I still do, this won't be debatable until after or perhaps well into the 2018 season. Anthony Hitchens was brought in and currently looking like D.J.'s direct replacement, leaving Ragland as the run stopping backer at the MILB position. Hit, it was indeed Hitchens and not Ragland depended on as the MLB to start the season even if he failed. The take was not the level of Ragland's production as the MLB, it was that he wouldn't be DJ's replacement in the defensive scheme, and he was not.
"But I'm confident that the value of obtaining Pierre-Louis over what it would cost to get Ragland and receiving about the same fantasy production in 2018……"– Here was my downfall "taking" too early on this one, maybe. KPL was not resigned and is now with the Jets. I knew better than such an early offseason "take", but yet I did so anyhow. I could cry "malign" here, a golf term for those who don't know, but I won't because I know I was certain he would be resigned. It is an interesting fact that as a Jet he is now with former Chiefs defensive coordinator Todd Bowels as his head coach and I wonder about a back room connection. While thinking along with the idea I know that Darren Lee hasn't actually lived up to Bowels expectations, I'll stop here and take my early miss on the resigning "take". Miss, period.
"Altogether we could see the Chiefs release or move on from up to or about six aging or ineffective players from the defensive side of the ball if Veach truly wants to bring on the youth movement."– According to the Chiefs official website: (5in total so far) Darrelle Revis (CB) released, Ron Parker (S) released, Tamba Hali (LB) released, Marcus Peters (CB) traded to Los Angeles Rams for draft picks. Adding in that D.J. was not resigned and all of whom was under consideration as I said it and the final cuts looming, I'll take the good with the bad and own this one in the spirit of the article's intention. Hit, was a hit by the time it was put into the dossier. They did resign Parker in desperation, but overall the personal was revamped accordingly.
"Unless there is some sort of negotiation on that cap hit I don't think we see Mr. Ward return. As for Tartt, he graded out well and shouldn't be sitting on the bench to start the season in 2018. With the odds that Reid is gone, Wards not worth the money or all that good, and the love that Colbert has garnered for what he did for the defense, we have to think that odds are Colbert and Tartt enter next season as the starters at either safety positions." Hit, Colbert and Tartt did enter the season as the two starters at FS and SS. It did not last but was all I stated in this take overall. Ward did remain with the team, but there is a reason I said "I don't think" concerning his return. Just like I won't claim a Hit with "With the odds that Reid is gone", which he was.
This next one was written in a different format as you can see by how I inserted into dossiers.
We will bypass the quoting for this one, leaving you the reader needing to read the article if wanting to check that I'm not deceiving anyone. There were multiple moving parts in this portion of the article about a few of the Cowboys secondary players at the time along with a couple of rumors. And none seem to have been grouped together in an easy and short quote to post.
But before we go on and boil down the "take" of the situation I'll cover the "gist" of what was stated and the results thus far. First of all the reports surfacing at the time was that last year starting FS Byron Jones experiment was ending, it has. Also at the time, there were pre-Earl Thomas trade reports that the Cowboys could be interested in signing former Saints free agent Kenny Vaccaro. With either of those, we still can't 100% count anything out.
The boil down on the "takes" are; – Heath needs to be phased out as one of the main starters, and the feeling so far is that's possibly the situation. Another was that second-year FS Woods would enter camp as the main FS, and this has only gained momentum.
And this final "take" is actually short and quotable after all."Frazier will have a role…….." – There are no indications, other than rumors, changing my mind that this is still in play to happen. Seattle wants too much in return for Thomas. While Thomas wants to be paid, so taking a stance in the media. Overall I can't believe that with Chancellor retiring they don't have the cap to pay Thomas now or really can afford to let him go. The scenario Dallas signs a veteran is still very much in play, but I'm not sold it'll be as "big-name" player as some would think. Knocking Frazier out, so to speak, boxing joke there, corny I know.
In Summary Hit and Miss:
Miss
on Frazier in for Heath being phased out.
Hit
 on no Thomas signing or veteran.
Hit & Miss rate so far: Hit 15 – Miss 5 

(75%)
Stay tuned folks, I'm guessing we are about 1/3 of the way thru my 2018 "takes and calls". Keep an eye out for more articles as we keep me responsible for what I have to say now and in the future.
Thanks for reading and be sure to hit me up on Twitter @HBogart27 for anything IDP
---
Facebook Comments