---
The IDP Tipster Spins Out "Takes" On Tier Changes On Those Linebacker Warranting A Tier Change In 2019 After Showing IDP Owners We Have A Good Reason To Adjust For 2019 Dynasty & Redraft Leagues.
---
The purpose, of what likely will become a mini-series, of this article is to recognize the unheralded IDP players postseason that wasn't exactly known before the 2018 season and where to tier them in dynasty leagues. And of course this will translate over into redrafts as well, but most of these players won't likely be going anywhere anytime soon so from a dynasty point of view will cover everything we need to know.
Unheralded Defined:
un·her·ald·ed
/ˌənˈherəldəd/
adjective
1. unknown, not previously announced, expected, or recognized.
There were quite a few IDP's that before the 2018 season had their names thrown out as potential players that Fantasy football owners would want to keep in mind. As well as some that emerged as viable pieces we found useful as the season unfolded. From a personal perspective, I believe in the offseason we have four categories.
The "Known"
The "Hyped" 
The "Potential
"The "Unknown"
After the season we have more clarity on each in most cases and if they still hold those titles or if changes are in order. We'll be dealing with the Hyped, Potential, and the Unknown players that succeeded in catching our attention in one form or another in 2018. And then set them in the appropriate tier heading into 2019 for trade value and drafting for dynasty leagues and redrafts. Taking into account age, role, situation, and of course performance leading us towards that tier to target them in for the future. This will help allow us to gauge a "reach", a "value", or a "bargain" as we maintain a dynasty or prepare to build one.
Keep in mind as we go, you may know some or even all of these players now after this past season. But I assure you they were unheralded by almost everyone last offseason has given what they accomplished, even to the "gurus" in most cases. There is a difference between "the hyped" before we know, and the "known" that we come to expect. These are players that are new to seeing the type of IDP production they produced in 2018. Before this, they have not made an impact as they have this season for whatever reason or situation. But now they have earned the right to be re-tiered by what they have accomplished for our IDP rosters going forward.
We are going to stop here and note that originally we were going to insert the guidelines we'll use for these articles. But after completing the article I've decided to break here and insert that portion towards the end for us to refer to if we feel the need. The last thing we want to do is get bored before the good stuff hits.
---
2018 IDP Mock Drafts Via http://www.punchdrunkwonderland.com/idp-mock-drafts/
---
Colts WLB Darius Leonard was one of the mid "hyped" rookie linebackers entering 2017, personally, I ended up slotting him in the 6th ranked rookie to watch out of all positions before the 2018 season. I don't "take" on rookies per-say right after the draft until I know some of the unknown information. But I think it played out well into the possible scenario as I quote from my article:
"We may have production by default situation or he may be the savior of the linebacker core, but either way, his potential situation for stacking the stat box has him firmly in our sights for 2018".
If any writer tells you they made the call he would currently be in the top ten, ask to see it on paper where they did. Keep your source honest. And let us note here, Leonard broke below the 5.0 grade. I've been using the P.A.P.S scoring for a long time since I formulated it for personal use a couple of years ago. There has never been a player break that mark. The word special doesn't even come into play here, his 2018 season was remarkable, to say the least.
Leonard is currently a top of the combined tackles with 155 thru Week 16, leading the league. He showed well in "playmaking" (P.A.P.S below) abilities with one interception, six passes defended, four forced fumbles, two fumble recoveries, seven sacks, and twelve tackles for a loss. These playmaking stats are as important if not more relevant in helping set a new tier for 2019 for Leonard. But, we will also be adding in the fact that the Colts defense doesn't exactly offer up an above average amount of surrounding talent challenging Leonard for opportunities as well.
According to the P.D.W IDP "ALL MOCKS SUMMARY" he was on average the:
114th overall IDP off the board.
48th linebacker off the board
7th rookie off the board
5th rookie linebacker off the board
To take note, looking over the entire mock, we certainly should agree with the pre-season mock draft results. And feel we need to add that any owner that would have selected Leonard in this range ended up hitting the mother lode. At that level of average in an all IDP player draft, it lands him as a Tier three to four, respectfully.
Before we take that next step and re-tier Leonard I'd like to offer some information I know in an article I wrote HERE. This might explain where I am coming from and help us understand my approach to rookies heading into their second seasons who managed to do what Leonard did. If you choose not too, we may be getting off to a bad start here with the first player we "take" on.  
In considering where Leonard is "tiered" in for 2019 dynasty drafts as well as redrafts we need to keep in mind Leonard's situation and the odds he'll be able to repeat in 2019. Just like many players before him, it is sometimes harder to repeat over getting it accomplished in one year. And then to keep that pace up for many years to come at a high level. Just ask the handful of veteran "known" linebackers including the likes of Luke Kuechly, Bobby Wagner, and Telvin Smith, who have managed to pull it off. In-line with this thinking and the surrounding talent around Leonard, the idea that the Colts may improve on defensive talent, the odds factored in, and last but more importantly Leonard's performance based on what we know, let's get to it.
2018 Tier: 3 to 4
2019 Re-Tier: Low Tier One / Solid upper Tier Two
Yes, we should move forward with caution. To be safe he should be slotted in as one of the linebackers in the eight to sixteen range, with "upside" of course, and certainly one of the first in Tier two if he happens to fall for some strange reason. This likely won't be the case for most leagues in any format, you'll see him selected as a top five, maybe a top three. We should keep an eye on the Colts and what they do in the off-season to patch what holes they have on the defensive side of the ball before we pencil him in as high as a top of the Top One tier player.
We simply should pump the brakes in thinking he can repeat his performance just based of 2018. I'll personally risk missing out if he repeats if I can't get him in that range we should target him in. He has become "known", now earn that right to be a top five by doing it again. I did mention above you may not agree on how we start out with our first re-tier.
Note: At the time of making the P.A.P.S I thought I'd have room for all five players, Foster and Littleton will be in the next article.
Cowboys MLB Leighton Vander Esch was pegged by many after last years rookie draft to replace Jaylon Smith who struggled in 2017 recovering from his terrible knee injury in a bowl game his final year in college. Not to gloat, but I did not see it this way and as I slotted in Vander as my seventh overall rookie IDP in this article, which happens to be the same article including Darius Leonard. Without a viable quote, I'll admit my suggested potential was off with Vander, at least half of the potential "take" was wrong.
 Admittedly I did not think he would be up to par his rookie season to perform as he has. The part I got right, he would see the field if and when either Sean Lee or Jaylon Smith went down with an injury. Not just assume a starting role over Smith which I was reading everywhere by many "gurus". Vander did not get his real shot off the top, it wasn't until Sean Lee again started suffering soft tissue injuries.
Vander currently at this moment is second in overall combined tackles with far less "playmaking" stats we would really like to see. But in his defense, we have to note he is playing on a tier better defense with the Cowboys than most as well as playing next to the just as talented Jaylon Smith. Vander's playmaking stats include two interceptions, seven passes defended, and two tackles for a loss. Again possibly because of fewer opportunities due to the talent around him and his role doesn't necessarily set him up for those opportunities.
Evidence of this can be seen by just looking at Sean Lee's career playmaking stats. According to pro-football-reference.com in Lee's full nine seasons in the NFL, when healthy, he has thirteen interceptions, two touchdowns, twenty-six passes defended, two forced fumbles, four fumble recoveries, three sacks, but a large number of tackles for loss with fifty-three. The tackles for losses are likely due to Lee's ability to read and react at a very high level. Something that Vander did flash this season.
We should consider the role of the MLB for the Cowboys may be a big part of the situation in playmaking stats. But that it is clear that tackle opportunities are the key to Vander's future at the position. In his case, that isn't something we should overlook but surely should keep in mind on both sides of the debate as to where he is re-tiered.
According to the P.D.W IDP "ALL MOCKS SUMMARY" he was on average the:
78th overall IDP off the board.
38th linebacker off the board
5th rookie off the board
4th rookie linebacker off the board
It is the same when looking the mock over, not surprising really where he was taken off the board. Will say just a little shocked on a couple of players after him like Kiko Alonso and Jamie Collins, but that's not actually our topic here as to why I think that. The end of Tier three last year is in line with the situation at the time, and again owners got a huge bargain there after all of it played out and Lee went down. I doubt we would be having this topic on Vander to talk about right now if by a miracle Lee made it thru the whole season. It is about opportunity as much as anything. He got him, and he showed he was well up to the task.
So keeping in mind what I've mentioned I know via those articles, I suppose we should actually like Vander just a bit more than Leonard heading into 2019. By that, we should consider he did it with a better defense around him overall and it's unlikely that they address any position around him that could affect his role and situation to a point that would mean much. One also has to think that not only is Sean Lee going on 33 years of age, but that in his current contract the Cowboys have a potential out. Moving on from the longtime veteran in 2019 would open up roughly four million. If they wait until after 2019 when this contract is over they are hooked as it stands to pay Lee seven million this coming season. Of course, that's barring a contract reconstruction by the Cowboys to keep him around.
The writing is well laid out, Vander Esch potential in 2019 as the MLB for Dallas is all but locked up. Considering all we have mentioned and all that seems to be in front of us we are ready to name his tier. 131 combined tackles is not a given in 2019, he also has some odds to beat.
2018 Tier: 3 to 4
2019 Re-Tier: Mid Tier One / Low Tier One
Chiefs Anthony Hitchens may be the least surprising of these three so far. But when the former four-year Cowboy was signed the last offseason of the top of free agency by the Chiefs with all the linebackers available it was a little surprising. To top it off the Chiefs paid Hitchens a five-year $45 million contract, slotting him in as the fourth highest paid linebacker in the league.
If we were to look at the probable better free agent linebackers last season and what they signed for afterward, it still is mind-blowing. On paper, this might look like a win/win deal with the Chiefs heading to the playoffs and Hitchens sitting on 126 combined tackles. But to be honest from tracking him all season we should figure that the Chiefs would like to have this one back.
The Chiefs are currently 31st in total defense for 2018, they ended 2017 5th according to NFL.COM. There isn't a need to eat up space here listing per pass and per rush what the defense ranks if the overall is next to last among the 32 NFL teams. And we had some midseason games that the Chiefs actually tried to help the defensive problems by taking Hitchens off the field on passing downs. That can be seen weeks 7-10 via pro-football-reference.com. One could argue about the report that he had suffered bruised ribs in Week Eight, but then that doesn't account for Week Sevens drop in snap counts. As well as these Twitter posts from some Chiefs faithful.
Anthony Hitchens has been so freaking bad this year good god. Ranks 81st of all qualifying linebackers via @pff. Overall grade of 39.1.
No safety was in the middle. 
Anthony
Hitchens
 can't really guard
Jared Cook
. Raiders score a touchdown rather easily. Chiefs lead is 26-16.
This run defense is goddamn awful. 
Anthony
Hitchens
 sucks and
Reggie Ragland
is a nobody now.
I've been pretty harsh on LB's Anthony Hitchens and Reggie Ragland! The issue I have is that neither attacks the running back they are too hesitant. If you're going to get beat just shoot the gap and perhaps you'll blow up just enough runs to give the offense another possession.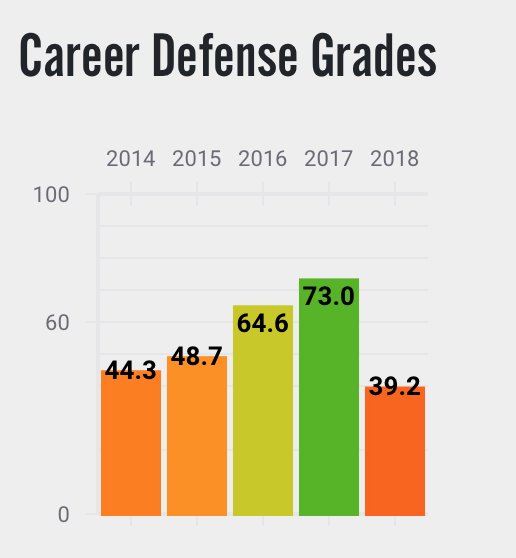 Anthony Hitchens has (quietly) been the most disappointing FA acquisition this year. Chiefs gave him the third-most $ guaranteed at signing among all off-ball linebackers, and he's been a non-factor this season.
According to the P.D.W IDP "ALL MOCKS SUMMARY" he was on average the:
47th overall IDP off the board.
19th linebacker off the board
Reflecting on it back then seems fair to say he did outplay his Tier Two selection among the linebackers. We have to think that the Chiefs had got the same treatment in real life. Short and sweet, IDP owners may want to keep this in mind next year as the Chiefs will most certainly try to fix things.
Putting Hitchens into a 2019 Tier is going to be rough. He clearly holds some risk even if he had a lot of what we should consider production by default. I strong sign of this is the fact he only had eight playmaking stats for the P.A.P.S score. One forced fumble and seven tackles for a loss isn't exactly anything to say we shouldn't think otherwise.
2018 Tier: Upper Two
2019 Re-Tier: Low Tier Two / Tier Three
For anyone that disagrees with the Tier chosen, just like his production this year, by default. May the Fantasy Football Gods be with you in 2019. There are just too many red flags for us to suggest higher. We now understand how the Cowboys had no problem letting him walk away from their organization this past offseason.
---
Guidelines And Such
Keep in mind as we went or go, you may know some or even all of these players now after this past season. But I assure you they were unheralded by almost everyone last offseason considering what they accomplished, even to the "gurus" in most cases. There is a difference between "the hyped" before we know, and the "known" that we come to expect.
These are players that are new to seeing the type of IDP production they produced in 2018. Before this, they have not made an impact as they have this season for whatever reason or situation. But now they have earned the right to be re-tiered by what they have accomplished for our IDP rosters going forward.
We will set some guidelines and use the current stats from first to worse as they sit currently in total tackles for 2018. With 16 weeks in the real NFL in the books, we need a starting point and this is as good as any.
There will be a current P.A.P.S score included (See P.A.P.S) to help show future potential. Granted, we'll set the bar using the P.A.P.S on all players now and later with weeks one thru sixteen, those are really the firm weeks to get an exact account of the score for IDP anyhow. As many of us know in the fantasy football world week seventeen isn't actually an accurate as the rest of the season on accounting for playing time (snap counts) and stats.
Week seventeen is used by many of the NFL teams as games to rest players for the playoffs, evaluate depth players, and in general, just doesn't reflect enough to be concerned about when it comes to fantasy football.
We will be referring back to multiple IDP mocks performed via punchdrunkwonderland.com to accommodate where their ADPs stood the last offseason with quite a few IDP writers among those mocking. To keep this clean I'll mention I do not mock draft anymore, or very little if I would, so this is a "clean" resource for us to reflect back on before the season as I did not partake.
This was an "all IDP" mock, Getting Defensive IDP Mock Drafts.
Our format for re-tiering based on the mock and the following settings in the mock as well as standard-sized leagues.
10 -14 team leagues (most common) and assuming the standard tackle based scoring format (unavailable).
Linebacker: 3-4
Safety: 2
Defensive End: 2
Defensive Tackles: 1-2
Cornerbacks: 2-3
Tier One: Top 16 (Can be in our lineups each week)
Tier Two: 17 to 32 (Can be in our lineups each week, matchups can come into play)
Tier Three: 33 to 48 (Bye-Week and matchup dependent)
Tier Four: 49 to 64 (The "on the radar tier", where many of these players were this past offseason)
It's unlikely we have any tier three or four because we simply won't be covering any players at that level if they haven't shown the potential to win us a championship according to the 2018 results. It is a broad spectrum for the tiers, but by the numbers each year it is normally the top 64 overall (all positions) with 32 teams in the NFL that win us Fantasy Football contests. There is a fine line in what gives us that winning edge, we want to reflect that going into our offseason and in our tiers.
Thank you as always for reading and feel free to find me on Twitter @HBogart27 for any follow-up questions or anything IDP. Or reach out at gmtvandyke@gmail.com.
---
Facebook Comments